The need for speed in mobile application development outsourcing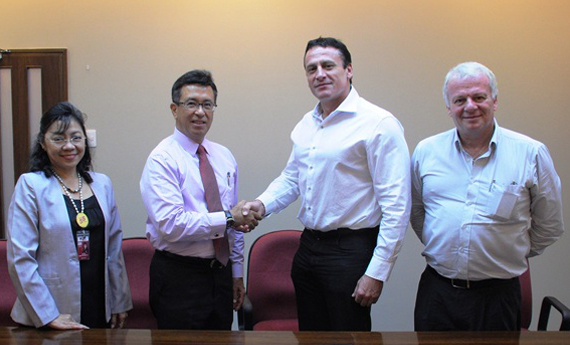 Photo shows (from left) Dr. Maria Victoria M. Ac-ac, dean of the College of Business
Administration, Lyceum of the Philippines University; Bobby Laurel, president of Lyceum of the
Philippines University; Darcy Lalonde, CEO, SHORE Solutions; and Karl Maclean, chairman of
Superbrands
SHORE Solutions' CEO Darcy Lalonde and Lyceum of the Philippines University's (Lyceum Manila's) President Bobby Laurel recently signed a two-year Memorandum of Agreement (MOA) for Lyceum Manila to send their qualified senior students to undergo internship programs for six months as on-the-job training (OJT) at SHORE.
The program benefits both SHORE and Lyceum. Taking in interns from one of the country's established educational institutions is a SHORE corporate social responsibility (CSR) activity. The Lyceum students will be exposed to and trained in the processes and operations of SHORE, an innovative, fast-growing BPO company. SHORE's offer of OJT also helps bridge the country's skills gaps to make the Philippines even more competitive in the global BPO market. The BPO industry has been one of the top contributors to the country's economy.
On the other hand, Lyceum Manila has found a committed partner in education in SHORE. A Lyceum student training in SHORE may be assigned to implement any of the different services SHORE offers including various functions in call/contact center services, BPO services or IT and professional services. The students may also have their OJT in various operational or support departments.